Only $10 per ticket!
Click Here To Purchase


Contact the Flint Jewish Federation at 810-767-5922 for group tickets. Only $8 each for six or more.
Proceeds benefit the programs of Flint Jewish Federation.
Presented by:
Made possible by a generous grant from the Ravitz Foundation, Michigan Council for Arts & Cultural Affairs and the Nartel Family Foundation.
Saturday October 20, 2018
7:30 PM
McArthur Recital Hall
Flint Institute of Music
1025 E Kearsley St, Flint, MI 48503
(Located in the Flint Cultural Center next to the Sloan Museum and near The Whiting and Flint Institute of Arts)
Details for 2018 are coming soon!!
2017 Concert Artist Lineup
Sheldon Low
We are pleased to welcome back
Sheldon Low
to our Humanity in Harmony stage. This will be the 4
th
time Sheldon has rocked our grand finale leading all our artists; that is after he rocks the house in his own set. He is a Jewish educator, who loves to work with children and one of the brightest young stars in Jewish Rock Music today performing rock concerts, 'Light Up Shabbat' services, seminars, and leading Artist-in-Residency weekends in Jewish communities throughout North America.
Born and raised in St. Louis, Missouri, Low is a third generation song leader.
His recordings and compositions have been featured
Read More
in numerous national albums and both of his children's albums have been distributed to tens of thousands of households around the globe.
Low has been featured on the cover of L'chaim Magazine, on Shalom TV, and on radio stations across North America.
Low was the Artist in Residence at Barnert Temple in Franklin Lakes, New
Jersey and is currently the Artist in Residence of Temple Israel of the City
The Dort Honors Stringed Quartet
We are pleased to have
The Dort Honors Stringed Quartet
return for the Second Humanity in Harmony Concert. This group of talented and dedicated high school students auditions for the opportunity to play in the quartet each year. The Dort Honors Stringed Quartet, under the direction of Alesia Byrd, is sponsored by the Dort Family Trust.
Read More
The late David T. Dort and his mother, Marcia W. Dort, had a dream: to help the very best stringed instrument talent in the school to become the best they can be and to grow in their love of the music. Both were avid musicians and music lovers, and David came back later in his life to take lessons at the Flint School of Performing Arts. David and his wife, Patricia, loved the FIM, and it is fitting that they still sponsor the best of our wonderful young performers today. The 2014/2015 Dort Honors Stringed Quartet includes Mitchell Anderson, violin Gabrielle Lindhurst, violin Anna Anderson, viola Benjamin Rainear, cello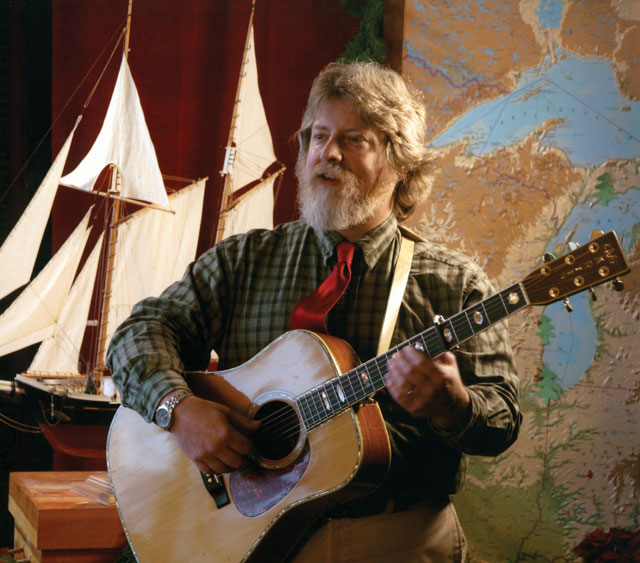 Lee Murdock
Humanity in Harmony is about how we react to and enjoy music. Music is one thing that, no matter where we come from, we like and can share. Whether it is the sound of a song from Eastern Europe, an Irish jig, an old Gypsy tune or the work songs of Great Lakes Sailors, the music tells stories and teaches about people, places and events.
Songs record the history of us!
Lee Murdock is that kind of musician, teacher, historian and storyteller. Lee has uncovered, discovered and written music and stories about the Great Lakes.
Read More
He uncovered sailing songs that were collected in the early twentieth century by Professor Ivan Walton at the University of Michigan. "The discovery of this vast collection of American maritime music was amazing to me," says Murdock, "And to think that it exists over 1000 miles from any salt water." He has performs many of these songs, some that hadn't been heard in decades.
Lee sings about: People like heroic ship captains, ghostly lighthouse keepers, lumberjacks in love and sea battles, terrible storms, spooky tales of ghost ships,
Lee tells of heroic deeds, comical characters, the beauty of our state's waterways and some pretty cool stories.
Lee's powerful vocals, great stories of real people, and his amazing musical ability will leave you wanting more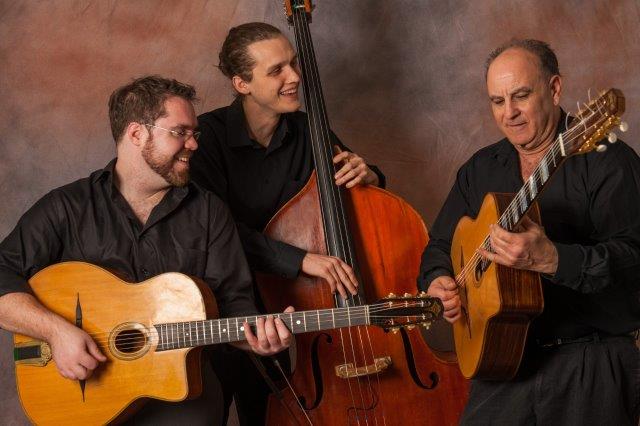 Ameranouche
The award winning Ameranouche (pronounced uh-Mare-uh-noosh) plays a passionate style they call "Gypsy Flamenco Swing." The name "Ameranouche" is derived from two words: American and Manouche, which is the traditional name of a gypsy tribe; just like the music they play comes from two traditions.
Gypsy music comes from the people who call themselves the Romani, or Roma. They descend from a nomadic people, living mostly in Europe and the Americas. They are thought to have come from the north of the India and have a Hindu origin
Read More
When Romani tribes first appeared in Europe in the early 16th century the British thought they came from Egypt, so they called them Egyptians and later, Gypsies.
Ameranouche takes the unique Gypsy style and jazz it up with a swing sound, some Flamenco, and Bebop. They play their music on traditional French jazz guitars; the music is rhythmic, vigorous, and elegant.
Ameranouche includes; Richard (Shepp) Sheppard playing Guitar. Richard is a composer and performer who founded Ameranouche out of his passion for Gypsy music and his love for the guitar in general. He has recorded with or performed with artists like John Jorgenson, Ritary Ensemble, Rick Danko, Hot Tuna, and Vassar Clements.
He has taught guitar, composition, and music theory as a faculty member of Bennington College.
Jack Soref also plays the Guitar. Born and raised in Madison WI, Jack has performed all over the world, from stages in France, and Scotland, to the Brooklyn Djangology Festival and Midwest Gypsy Swing Fest.
Providing the bassline and beat is Michael K. Harrist on stringed bass. A versatile bassist, Michael is interested in many musical styles. He too has toured extensively throughout Europe and the United States. He draws heavily from his background in Jazz improvisation and is deeply committed to studying Hindustani music, late Romantic harmony and classical Ottomon/Mevlevi music.
Daniel Pearl Foundation Mission
The Daniel Pearl Foundation was formed in 2002 in memory of the Wall Street Journal's South Asia Bureau Chief, journalist/musician Daniel Pearl, to promote the ideals that inspired his life and work. The Foundation works domestically and internationally to promote cross-cultural dialogue and understanding, to counter cultural and religious intolerance, to cultivate responsible and balanced journalism, and to inspire unity and friendship through music.
The Humanity in Harmony Concert is the only Daniel Pearl World Music Day event in Michigan. The goal, like the Pearl Foundation, is to bring people together in mid-Michigan, to play and listen to music, sing, talk and get to know each other. Using stringed instruments to find a common cord may be a way for us to have more difficult conversations with each other.
2017 Daniel Pearl World Music Days Journalist in Residence Kurt Nagl
There is more than music. Honoring the memory of Daniel Pearl we have chosen our third Humanity in Harmony-Daniel Pearl World Music Days Journalist in Residence, Kurt Nagl, a reporter for Crain's Detroit Business. Before his assignment in Detroit, Nagl, a graduate of Central Michigan University, reported from northern Iraq on the war against ISIS, the refugee crisis and other issues in the region. Locally, he worked at M-Live-The Flint Journal and contributed to coverage of the water crisis in Flint. He interned at the China Daily in Beijing. His freelance work has appeared in Al Jazeera English, Bridge Magazine and other publications.
Daniel Pearl World Music Days
Klezmer Kickoff Concert
Register by email: AshleyMusser@FlintFed.org
7 pm Wednesday October 18th
This year the Humanity in Harmony program has added a free concert on Wednesday October 18th, the "Klezmer Kick-off Concert" featuring one of the top Klezmer bands in the world; Yale Strom and Hot Pstromi. This group has a style all their own, based on traditional Jewish music, Yiddish and other old world sounds, with an infusion of Jazz, classical and more.
Strom has been researching and collecting music in Europe and the Balkans among the Jewish and Rom communities for many years. This unique research is the foundation for Hot Pstromi.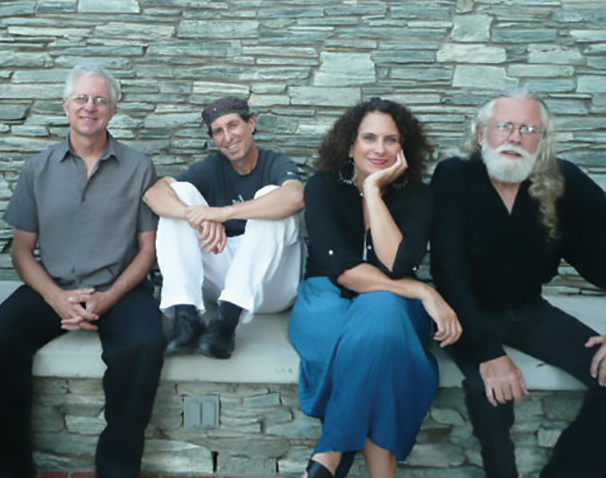 Yale Strom and Hot Pstromi
Yale Strom and Hot Pstromi
have a style all their own, based on traditional Jewish music. Based in New York and San Diego, Hot Pastrami is a fusion of traditional klezmer, new Jewish music, Gypsy, world beat and Balkan music. The music pops with an old world sound!
The founder and bandleader, Yale Strom is a violinist, filmmaker and has composed original music for theatre, film and television. He has been researching and collecting music in Central and Eastern Europe and the Balkans among the Jewish and Rom communities for many years. This unique research is the foundation for Hot Pastrami.
Read More
Since their founding, in 1981, Strom has also composed original New Jewish music that combines klezmer with Khasidic melodies, as well as Roma, jazz, classical, Balkan, Arabic and Sephardic motifs.
The musicians of Hot Pstromi are virtuosos in their own right, each having achieved international recognition for their work.
Elizabeth Schwartz is sometimes called, "The Voice of Klezmer." Celebrated for her uniquely dusky timbre – reviews hail her "soulful", "passionate" and "penetrating" vocals. As a klezmer singer, she performs regularly across North America and European in venues ranging from jazz clubs to synagogues to concert halls, and is proud to have performed as a soloist in the two largest synagogues in Europe (Budapest and Strasbourg).
Sprocket Royer has been performing on the bass for more than thirty years, playing classical, jazz, blues, country, klezmer, Balkan and Middle Eastern music. He is a master luthier at a workshop in New York City A luthier builds and repairs string instruments. In this job he gets to work prove his love of the instrument working on instruments from all around the world.
Norbert Stachel is a multi-instrumentalist, recording and performance artist. He is known for his style on saxophones, clarinets, and flutes. He has left his mark on recordings with groups like; Aerosmith, Tower of Power, Prince, Tito Puente, Diana Ross, Boz Scaggs, Neil Diamond, En Vogue, The Temptations, Sheila E, Quincy Jones, and others.
Peter Stan is an accordionist who both performs and teaches. His heritage is Romani Balkan, although he was born and raised in Australia prior to coming to the U.S. when he was 12 years old plays a broad range of musical styles including Balkan, classical, French favorites, Klezmer, popular, and contemporary. He has performed in movies, appearing with James Earl Jones and Armando Assante, and has done numerous studio soundtrack recordings.
Percussionist David Licht was a co-founder the Klezmatics in NYC in the late '70s. He has played with other groups like; Shockabilly and Bongwater.
Michael J Thorp
Producer / host
The host and producer of the "Humanity in Harmony Concert" once again is Michael J. Thorp, a well-known broadcaster, writer, program planner and host. Michael J. is the host of The Michael J. Thorp Show on WWCK am 1570, and on line at Supertalk1570.com.
A DJ, talk show host, newsman and program director for many years on radio, he created, produced and hosted "The Huckleberry Radio Hour" a live radio variety show that ran from 2007-20011 and won 2 EMMYS. He was a television news anchor for ABC television, and is currently host of, "Michael J. Thorp's American Civil War Years", for which he garnered an EMMY nomination in 2012.
He serves as; an Executive Board member and past Vice President of the Michigan Crossroads Council, Boy Scouts of America, a board member, and past president, of the Mott Community College Alumni Association, an instructor for the Michigan Association of School Boards creating and leading seminars and programs; and as an instructor/writer/producer for i-Michigan Productions. Michael is a member of the Davison High School Hall of Fame, and a Distinguished Alumni of both the University of Michigan Flint and Mott Community College.
Michael has published 3 books, the most recent, "Michigan's Thumb Drive", a history and tour of Michigan's Thumb. His other Michigan based books; "The Great, Great Lakes Trivia Test", and a children's book, "The Legend of the Abominable Huckleberry." Another Michigan trivia book is set for release next year. He was a contributor to "American Civil War Years: the Reenactors Telling", which is a companion book to the PBS series he hosts.
All are available at michaeljthorp.com.
Program Ads & Sponsorship Opportunities
Name listing $36
1/4 page $100
1/2 page $180
Full page B&W $330
Full page color $500
Sponsorships
Concert Master(2 tickets) $360
Conductor (4 tickets) $540
2014 Humanity In Harmony Concert
We seek out stringed musicians from a wide variety of backgrounds to perform each year.
Enjoy a sample of the 2014 performances below.
Artists in 2014 were Sheldon Low, The Moxie Strings, Dr. Mike Kassel, Aaron Jonah Lewis, Chris Shafkalis and John Pappas.
View video clips of their performances on this page… Click here.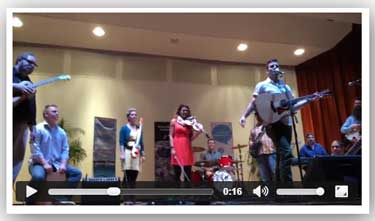 2013 Humanity In Harmony Photos