2015 Humanity In Harmony Concert
scroll down
Presented by:
Made possible by a generous grant from the Ravitz Foundation, Michigan Council for Arts & Cultural Affairs, National Endowment for the Arts,  and the Community Fund of Greater Flint

Sunday October 18, 2015 2PM McArthur Recital Hall, Flint Institute of Music
 Artist Lineup
Sheldon Low
If the Beatles, James Taylor, and John Mayer met at Jewish summer camp, it could end up sounding like Jewish rocker Sheldon Low.  
Read More
Returning for the third time to the Humanity in Harmony Concert, Sheldon Low is one of the brightest young stars in Jewish rock music today, Sheldon performs rock concerts, 'Light Up Shabbat' services, seminars, and leads Artist-in-Residency weekends in Jewish communities throughout North America. He is not only a serious musician and recording artist, but a Jewish educator as well. He performs at national youth group conventions, professional conferences, and Jewish festivals, as well as dozens of Jewish camps each summer. He is based in New York
Brittany DeYoung
Brittany has been studying and playing the harp since she was 8 years old. Today she is the Harp faculty member at the Flint Institute of Music.  
Read More
She performs regularly with top regional orchestras including the Lansing Symphony, Ann Arbor Symphony Orchestra, and the Flint Symphony Orchestra. In 2002 she performed with the Olympic International Orchestra for the 2002 Winter Olympic Games.
Julie Gold
Julie is a Grammy award winning Singer/Songwriter best known for Bette Midler's version of her song FROM A DISTANCE which won the Grammy for Song of the Year in 1991.
Read More
That song, which you have almost certainly sang along with, has been; played on the radio over 4 million times, recited into the Congressional Record, was recorded internationally and translated into many languages, has been turned into a children's book, has been quoted in calendars and greeting cards and, most fun of all; it was used as the wake-up call for astronauts in the Mir Space Station the very first time the Americans hooked up with the Russians in outer space. Here songs have been recorded by Jewel, Cliff Richard, The African Children's Choir, Judy Collins, The Byrds, Donna Summer, Nanci Griffiths, Patti LaBelle, Patti LuPone, and Kathie Lee Gifford. Now that is quite a list. Her songs have been featured in the films, ANDRE, and UNFAITHFUL, starring Richard Gere. Not only that, her song DREAM LOUD is a favorite of The Girl Scouts of America. Julie loves to tell people that she was paid in Girl Scout cookies for the use of that song.
Currently she is writing songs for the Oxford University Press for a series that teaches English to elementary school children all over the world. As the daughter of an immigrant, she sees this as her most meaningful endeavor to date.
The Dort Honors Stringed Quartet
We are pleased to have The Dort Honors Stringed Quartet return for the Second Humanity in Harmony Concert. This group of talented and dedicated high school students auditions for the opportunity to play in the quartet each year. The Dort Honors Stringed Quartet, under the direction of Alesia Byrd, is sponsored by the Dort Family Trust.  
Read More
The late David T. Dort and his mother, Marcia W. Dort, had a dream: to help the very best stringed instrument talent in the school to become the best they can be and to grow in their love of the music. Both were avid musicians and music lovers, and David came back later in his life to take lessons at the Flint School of Performing Arts. David and his wife, Patricia, loved the FIM, and it is fitting that they still sponsor the best of our wonderful young performers today. The 2014/2015 Dort Honors Stringed Quartet includes Mitchell Anderson, violin Gabrielle Lindhurst, violin Anna Anderson, viola Benjamin Rainear, cello
Victor Ghannam and Friends
Victor Ghannam is a self-taught musician who has performed throughout North, Central, and South America, Europe and the Middle East. He plays many instruments but is mostly known for his talent on the Oud and Qanoun.
Read More
He began his musical life at the age of 4 and today is a stage veteran who has toured with many of the leading recording artists of the Middle East and is most recognized for his dazzling improvisation. He, and his friends, will dazzle with the sounds of Lebanon and the Middle East.
Reverend Robert Jones
Authenticity is something that Rev. Robert Jones believes is important to all of us. And everything about this Pastor from Detroit is authentic.
Wanda Degen
Wanda is a virtuoso on some of the most traditional of instruments, yet not very familiar instruments around. She plays the autoharp, mountain dulcimer, and hammered dulcimer.
Read More
Wanda sings and plays songs and tunes from all over the world including Appalachia, the British Isles and the Great Lakes on these unique stringed instruments.
First Humanity In Harmony Journalist in Residence
Gary Lane, CBN Chief International Correspondent
As part of the memorial to Daniel Pearl, the Humanity in Harmony Concert supports a scholarship in journalism given by the Flint Journal/M-Live and the Flint Jewish Federation. This year's theme:  Given the potential dangers as shown by current events and the story of Daniel Pearl, why do you think journalists overseas continue to risk their lives to report news in areas of conflict and push for freedom of the press?
To help focus on this question we will welcome, for the first time, an international reporter as our Journalist
Read More
in Residence to talk to young people about the importance of reporters bringing news from around the world. The first Humanity in Harmony Journalist in residence will be Gary Lane, a Flint area native and CBN News' Chief International Correspondent.
Gary Lane started his broadcast and journalism career while still at Davison High School, and later at WJRT TV as well as local radio stations WTRX, WGER and WKMF. He is a graduate of the University of Michigan-Flint. Since 1984 Lane has led international news coverage reporting from 120 countries. Mr. Lane will address questions like, why it is important to cover news from dangerous places, what precautions he makes when traveling, how reporters, and their families, deal with the very real dangers they put themselves in, and he will talk about Daniel Pearl and how his death affected how reporters work.
Daniel Pearl World Music Days 
FREE Workshops
held on:
Saturday October 17th
Anderson Room at the Flint Institute of Music
11 am  Non-Violent Conflict Resolution Workshop
1 pm Reverend Robert Jones: A finger style blues guitar workshop.
2:30 pm Julie Gold songwriting workshop
Michael J Thorp
Producer / host
Michael J. Thorp has written produced, directed and appeared in numerous on stage, radio and television programs, commercials and on film. He is a broadcaster, author and program host.
On radio Michael did everything from talks shows and news to sports play by play. He was creator, producer and host of the EMMY Award winning "Huckleberry Radio Hour", a live radio variety show. A television news anchor and reporter, Thorp was creator and host of Michigan Public Television's "Homepage Magazine." He is currently host of "Michael J. Thorp's American Civil War Years", which earned an EMMY nomination in 2012.
Michael has published three books, based in and on Michigan; "The Great, Great Lakes Trivia Test-The Who, What, Where, When, Why and How of Michigan", a children's book, "The Legend of the Abominable Huckleberry." His new book, "Michigan's Thumb Drive" was just released and all are available at his web site, michaeljthorp.com.
2014 Humanity In Harmony Concert
We seek out stringed musicians from a wide variety of backgrounds to perform each year.
Enjoy a sample of  the 2014 performances below.
Artists in 2014 were Sheldon Low, The Moxie Strings, Dr. Mike Kassel, Aaron Jonah Lewis, Chris Shafkalis and John Pappas.
View video clips of their performances on this page… Click here.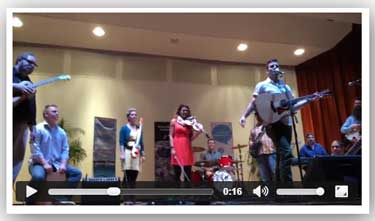 2013 Humanity In Harmony Photos